28 février 2015
6
28
/

02
/

février
/

2015
17:49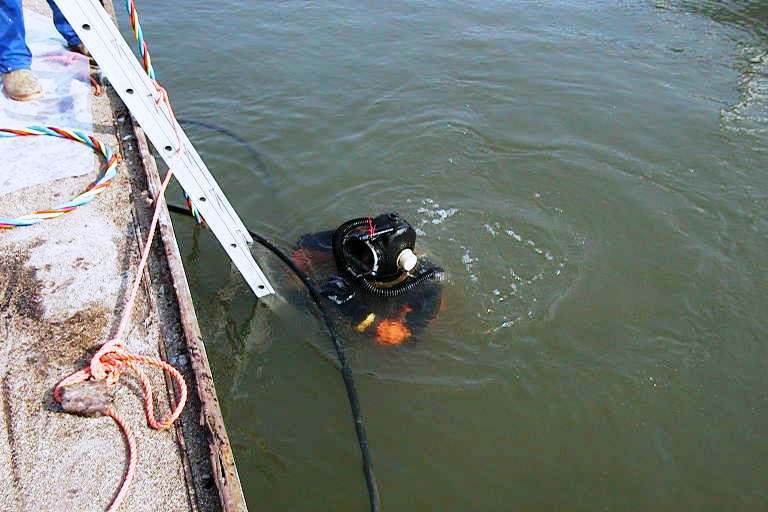 During my offshore period, I also got used to work from time to time in Belgium for my former colleague Rik who had created his own diving company.
This allowed me to not lose my experience in civil engineering which unlike offshore diving was most of the time done in fully black water.
One day in November 88, Rik called me to go to the Van Damme sluice in Zeebrugge to replace a brake block under one of the doors.
To permit you to understand the nature of my work, you have to know that this huge sea sluice is isolated from the sea and the docks by 2 big rolling doors. Once in his close position, the door is held in place by two big clamps (one at each end) which are closed hydraulically and pressed against a concrete beam.
Like any moving parts, these brake blocks wore out and we had to replace them at regular intervals.
This replacement was entirely done under water according to a specific methodology.
The job was very technical, but the major difficulty was to gain access to the working area. Indeed, to reach the place I had to creep under the door of the lock, and then once inside it I needed to install various hoists and pulling devices to a few steel profiles so that I could bring the braking device to its position. Once there, this new brake had to be lifted for one meter and then be positioned accurately in front of his support so that I could introduce a series of screws.
This last phase of work was by far the most complicated because at this point, the space between the concrete beam and the braking block did not exceed 45 cm. So you see a very tiny place to work in and where I could hardly pass my chest.
During my dive, I had now arrived at this last operation and had already installed two or three bolts.
Quietly and being careful to not hook myself, I stepped slowly backward and went to the tool basket to pick up a new bolt.
I was barely out of the door when suddenly I heard a light whistling sound that ended with a "Clack".
What a strange noise I thought but without attaching any importance to it.
Then I grabbed my new bolt and crept again under the door to reach the clamp.
Arriving on it my blood froze and I was immediately taken by a fear quiver.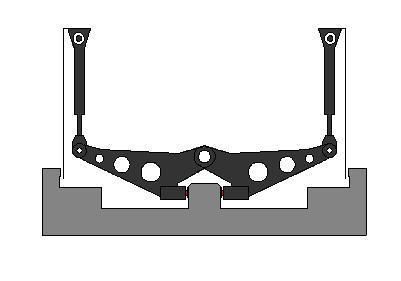 The small space in which I had worked a minute earlier was now fully enclosed and the brake pressed against the concrete beam.
I immediately crawled out of the door and began to shout on the phone like a mad treating the surface crew of all imaginable bird names.
Then without saying anything, I grabbed the down line and came up rapidly to the surface. There, mad with rage and without even waiting for the help I removed my equipment and threw everything down.
At the surface, they had still not well understood what had happened because I was so shocked that I couldn't explain myself correctly.
Then after a while I get a bit calmer and could finally tell them about the IMPOSSIBLE. Indeed, although being blocked in the control room, the hydraulic cylinders operating the clamps had moved and shut down the brake on which I was working.
Having finally understood the situation, Rik run to the sluice master to know who and why the lockout and tag had been removed.
Of course, the story made a terrific fuss and five minutes later all the lock-keepers were near me to once more hear my version.
On the side of the technical service, each vowed its great gods that they hadn't touched anything and according to them, the only explanation they could provide was that there probably remained a residual pressure in the circuit that close the cylinders.
But to me this explanation did not convince me entirely.
Anyway, I was now in a very stressful situation because I was really shocked by the incident to the point that I wanted leave the site.
But, on the other hand, I knew that in doing so I could have some difficulties to get back in the water in a few days.
I therefore took my courage in both hands and get re-dressed to finish the job that I had started. Arriving on the pad, I tried to not think to the heap of bloody mush I could have been if I had stayed a few seconds more to this place.
Half an hour later I came up with the mission completed. My dive, had calm me, but during the weeks that followed, my sleep was filled by horrible nightmares.
Then with the time nightmares ceased and were replaced by other dreams from more enjoyable situation.
Conclusions:
A verbal record or a simple panel indicating "diver in the water" is not enough. A proper lockout is: remove fuses, put a lock or other device to 100% ensure that the concerned equipment cannot be returned to service.
Papy One