21 février 2015
6
21
/

02
/

février
/

2015
14:09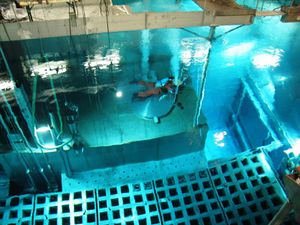 In 2005, a well-known electricity supplier, made contact with us to plan an accurate inspecting work in one of its fuel pools which could in function of the encountered results lead to the welding of a small patch. As one might imagine, welding under water is far more complex than surface welding and most especially when it comes to weld some thin special stainless steel like those existing in most nuclear plants. Thus in addition to the preparation of the inspection procedure, the client also asked us as well to prepare a welding procedure for this operation.
This meant that we had plenty of work ahead of us.
To accompany me in this operation, I had selected 3 of our divers/welders and prepared for them an underwater welding training program with that type of stainless steel so that they could pass their qualification without problem.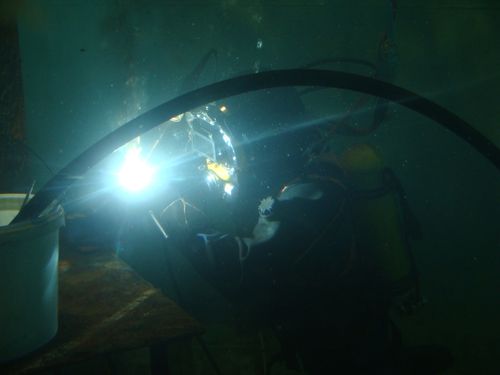 Personally, I had a good work and dive experience within nuclear installations.
But for my colleagues, it was the first time that they were going to intervene in the hot area and therefore they had also to follow a course concerning the nuclear safety and radiological risks.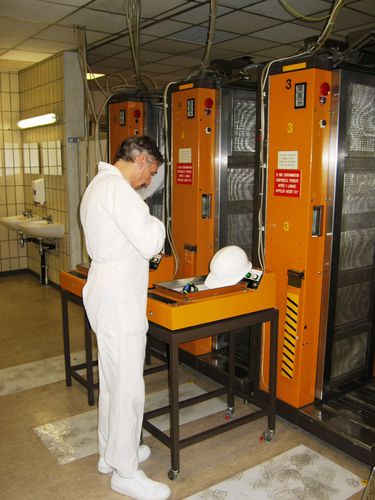 But theory is one thing and practices another and so like any newbie they were a bit scared about this type of diving and many more questions came up concerning their safety.
Among these, was the question of how we at the surface were going to control the level of radiation to which they could be faced during their dives?
Very professionally I explained them that a radiation mapping from the bottom would be carried out before diving and this would allow us to localize the potential hot spot places where they should avoid passing.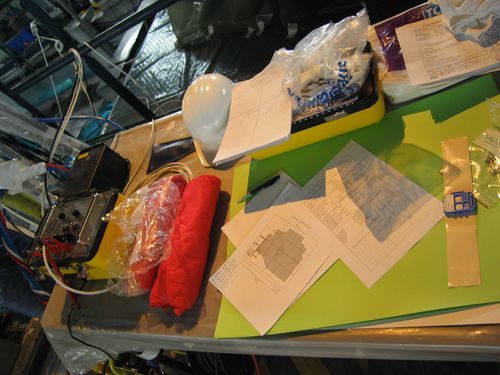 Secondly, I told them that they would be equipped with a probe connected to the surface that would measure in real time the radiation level they will be exposed to and thus be able us to act accordingly.
Thirdly, I also said them that they would carry several electronic sensors and dosimetry films underneath the dry suit which would measure the dose of radiation absorbed during each dive.
But while I was explaining all this something made 'TILT' in my small brain.
It's perhaps the accumulation of too many diving and saturation hours, but I've always loved to crack jokes to my colleagues and I must say that I was gifted to make them swallow almost anything.
So here, while continuing to develop the subject, I told them that these sensors and dosimetry films were positioned at the extremity of each member and that the last dosimeter was positioned to the level of sex.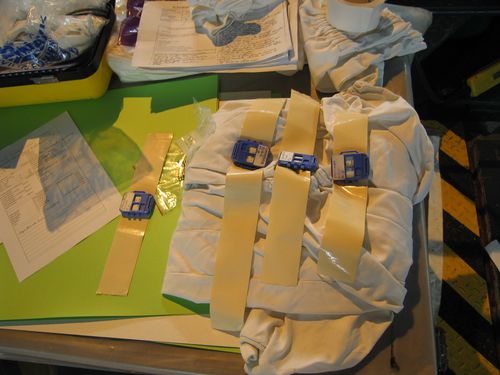 In reality, these instruments of control are simply held in place by adhesive tapes but here I couldn't help to change truth a little bit and thus the most seriously of the world told them:
- Besides, concerning that last one, the guys from the RP (radiation protection) service who provide the instruments have asked me to communicate the measurements of your sex so that they could prepare the adequate dosimetry rings.
Immediately as you might expect my divers began to laugh.
- No, no my boys, I'm not kidding you, it is always like that.
- Remember that your balls are very sensitive to radiation and therefore the reading need to be very accurate and this can be only done with a tight-fitting ring.
- Thus once we will have finished our little meeting, I will ask you to measure the circumference of your verge in a RESTING position and write it on a piece of paper.
Apparently, I had managed to convince them because shortly after lunch, three small pieces of paper carefully folded arrived on my desk.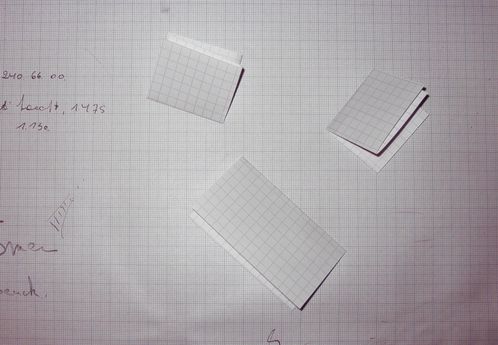 - OK, thanks guys, I'll send the info to our client and in the meantime this afternoon we will practice how to put on and remove your diving equipment to avoid contamination.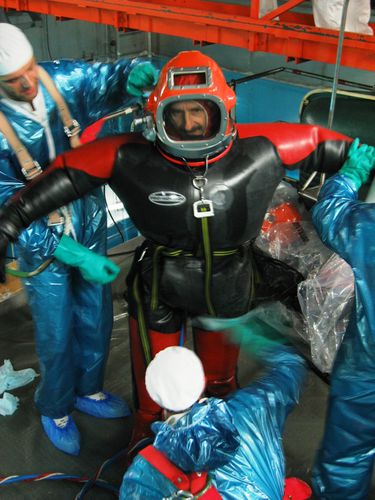 The afternoon went on normally, but it was too beautiful, my Joker spirit could not help thinking what was going to happen next.
At the end of the day, I called my colleagues back and with an air lightly embarrassed said to them:
- Look guys, I just had a phone call from the client, and he asks us to confirm your measurements because they look wrong. But at contrary if they are correct then there is a real problem because they don't have such small dosimetry rings.
Small sneering of the divers.
- You will damn us there?
- No I assure you, I would not allow me to joke on that matter.
Then all of a sudden, a big laugh came from a desk in the background.
It was the Secretary to whom I had told what I was working on, and which was now convulsed with laughter and thus put an end to the Machiavellian story I had mounted.
But my three divers weren't laughing at all and they rapidly left the office.
As one might imagine, the same evening I took myself a few measurements to reassure me.
Phew, I was in the standards.
The welding training and preparation of the work, lasted some time yet, then the D day arrived.
And so on a certain day of 2005 we all together left our office for the nuclear plant.
Once on-site, I introduce my divers to Marc, the person in charge of our work.
I knew Marc pretty well and had informed him of the hoax.
He offered us some coffee and we talked about some banalities during some minutes.
Then he seized his phone, formed an internal number and told its correspondent the following words:
Allo André! look, the diver with their little dicks are here in my office. Can you bring me the special order.
He lay down the phone and immediately both of us burst in laughter under the enraged eyes of my colleagues.
In their eyes, I saw that the retaliation would be terrible and I now had better be on my guard.
But nothing happened, the entire work took place in the joy and the good mood and the client was fully satisfied with our service.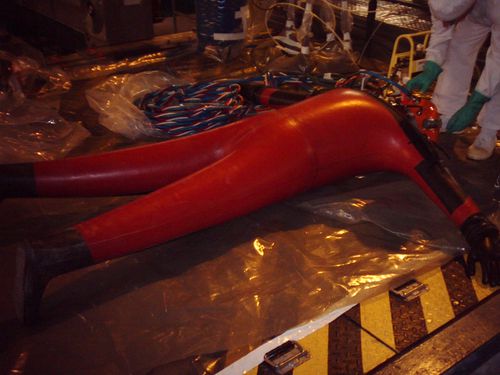 Today, some years later and despite the threats that I had recived, nothing unpleasant happened to me.
Maybe my colleagues forgot to take revenge.
Let us hope that they will not read this confidential article which I hope will remain between us.
Conclusion:
Laughing is so good
Papy One