16 novembre 2008
7
16
/

11
/

novembre
/

2008
15:11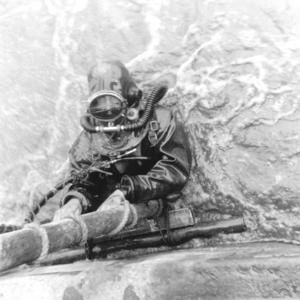 After leaving the Navy and the Clearance Divers Group, I worked during a few years for a diving company based in Brussels and there, I learned some of the basics of civil engineering diving which incidentally was quite different from military diving.
Then in 1972, I was enticed away by another diving company after they had inspected one of my sites and had judged that I was not too bad and thus could make a good recruit.
My wage was higher than where I worked previously, but this was in part justified because here it was the habit to send a diver on construction job with only a non-diver tender and as such it was common to spend 5-6 hours in the water several times a week.
Thus, on 23 November of this same year, my boss sent us the tender and me, on a mud removal work under a quay wall.
Once on-site, we prepared and tested all the material, then I dressed myself with my constant volume suit and jumped in the water.
Everything went very well during the first 2 hours, and the work progressed well, until the moment where I felt that my air pressure began to decrease.
As at the time, we were not yet using dive communications, I seized my umbilical and sent a signal of 3 pulls to inform that I came back to surface but oddly I received no signal in return.
Fortunately, water was only 5 meters deep and I had no difficulty to come up without air.
Once at the surface, I hold myself to the suction hose of the pump, opened my hood window and started to shout after my assistant.
As I was still getting no answer, I began to think that he had a problem otherwise he would not have left me down without air.
I decided therefore to swim back to the ladder to see what was happening.
The ladder was about thirty meters away.
In normal circumstances swimming to there would have presented no difficulty, but actually I was without air and was much too heavy to swim with an open hood.
Result, the only solution I had was to drop my weight belt. Much lighter now I began to swim but after only a few meters I was blocked because my umbilical was stuck somewhere on the surface and I could no longer move forward.
Again, the only solution that was offered to me was to cut my umbilical.
Obviously, all divers know that a diving knife can be used to do anything, except to cut.
Finally I managed to cut it with some difficulties and I could now reach the ladder and come out of the water.
I was really anxious to know what had happened to my tender, but as soon as I had passed my head over the quay wall I saw his feet sticking through the window of the truck and I understood.
In fact, the bastard was sleeping and because of the noise generated by the water pump and the compressor supplying the air lift, he had not heard that the small diving compressor had stopped.
Of course, my first reaction was to knock him down and throw him in the water, but I soon had another idea.
I decided to hide away and wait to his wake up.
The poor guy must have be exhausted, because I still had to wait nearly an hour before he moved.
First of all, I saw him stretch his legs and arms then still sleepy look to the left and the right.
Finally the door opened and he appeared.
He immediately saw that the diving compressor was not running anymore but rather going immediately to the umbilical, he tried first to restart it twice but without success, and then finally he came at the edge of the quay and took up the slack of the umbilical.
I was too far to see his reaction but I imagine he must be surprised to find that there was no one at the end of it and I suspect that his hands were shaking a bit. He held the extremity of the hose in his hands during some seconds without any reaction and not knowing what to do.
As for me, I had seen enough and I decided to come back.
When he saw me, I could see a great relief on his face, he tried even to joke, but I wasn't in the mood for that.
After blowing him up I told him to check the compressor to see if he could repair it while I was going to repair my umbilical and make another weight belt.
Unfortunately the compressor did not restart.
That was a problem because I knew that my boss had planned to do this work in a single day and if I had to return to Antwerp to take another compressor the day would be lost.
On the same site, I had noticed that a few workers were busy making some demolition works with a gas cutting torch and an idea came to me.
As I had dived a lot with pure oxygen during my Navy time, I said to myself that as there were only a few meters of water, this could be the solution and so I went to borrow a bottle of O² from those guys and thus could finish my job in the planned time.
When I came back to the workshop, my boss praised me for my initiative and my salary was increased by a few francs.
I do not know why, but over the following days I had some lungs irritation.
As for the tender: He was fired shortly after that for lack of professionalism.
Conclusion:
Never make the same BULLSHIT.