12 novembre 2008
3
12
/

11
/

novembre
/

2008
00:00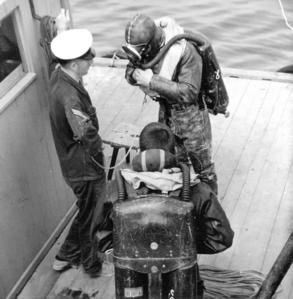 A long time ago in 1966 I was very proud to join the EOD diving team of the Belgian Navy and begin my career as a professional diver.
As one might imagine, the main mission of this unit was to retrieve old sea mines still scattered along our coasts...
To carry out these missions we were using the French semi - closed circuit DC55 which was a very reliable apparatus that we could use to 55 m with a nitrox mixture of 30/70.(you see that the upper PPO² limit was higher in those days).
At that time, we were only a few divers in service spread aboard 2 mine hunters based in Ostend. As I said, lot of mines were still discovered or caught in the nets of trawlers, and we were therefore obliged to always have a team ready to intervene at any time.
So on a certain date in June 1967 I was particularly happy because I was off duty for 3 days and I had planned to have good fun in the harbour of Ostend where our mine hunters were based.
As at that time I was a big partygoer, I spend all the night drinking, dancing and chasing the lovely English girls who came on the continent to have some fun with the smart divers we were.
That night I was aware that I had drunk a bit more than reason but didn't care because I thought I could sleep and recover during the next day.
Unfortunately for me, this was not the case as at 9 in the morning, the Chief diver entered the room and pulled me out of my bunk by telling me that I had 10 minutes to prepare my dive bag and leave for a mission with the stand by mine hunter.
I tried to explain him that I was off duty that day but he told me that the other watch diver was ill and that I was due to replace him immediately.
So I went on my feet, took my 3 mm neoprene wet suit and joined the other divers that were already on board of the Van Artevelde.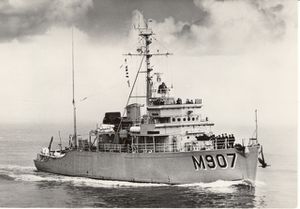 During the trip to the diving scene I tried to recover a bit from my heavy night.
I had a real hang - over and I therefore didn't bother to much about the diving gear I was going to use which I thought had already be prepared by the diving team on watch.
At 11 o'clock, the sonar technician told us that he had a contact 300 meters straight ahead lying at some 28 m (93 feet) deep and that we could prepare ourselves to dive.
As I was the youngest diver of the team, the others decided that I was to make the dive, which they said would do me well.
So we put the Zodiac over board and started to bring it in position over the target.
Once the zodiac had dropped the anchor as close as possible the contact point I put the DC55 on my back while the chief diver attached the signal line to my harness.
I then set my mouthpiece in the diving position and plouf with a smart jump, in the water I was.
It was a nice sunny weather, the sea was very flat and more than all the visibility looked very good, so maybe after all I thought I could have a nice dive.
I started to descend on the down line but quickly felt that something was wrong.
I had the impression that the down line was turning around and around and I started to feel so unwell that I gave the emergency signal at my signal line to be pulled up, maybe was it due to the fact that my signal was to weak or that the surface gave to much slack during my descent, but the fact remains that it was not perceived.
The last thing I remembered was something on the seabed that looked like a mine and then there was a complete black out.
When I woke up, I was lying in the infirmary bed with the paramedic at my side asking if I was OK.
So what had happened? By my lack of professionalism I failed to check the soda lime canister of my rebreather, being persuaded that it had been done by the former diver I had replaced, and in fact it wasn't, the canister was quite empty.
So during my short dive, I quickly accumulated a big amount of CO², which made me faint rapidly.
Luckily for me, I must have had a last reflex before fainting by blowing up my inflate jacket (Fenzy) which brought me back to the surface because the zodiac crew told me later that they had not received my distress signal and were very surprised to see me break the surface.
As for me, I was now laying there, with a double headache, one from the drink, one from the CO².
So was has to be retained by this story:
Drinking too much gives headache.
Supervisors' never send divers in the water, which are still under the influence of alcohol (or drugs).
Divers, never forget to check the diving gear you are going to use.
Coming back inanimate from nearly 30 m doesn't necessarily mean AGE
Papy One