6 décembre 2008
6
06
/

12
/

décembre
/

2008
14:28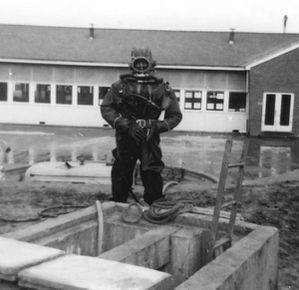 One of the biggest underwater works made in Belgium in the seventies, was the construction of the Rupel tunnel which if we take into consideration the sole underwater operation's lasted from 1977 to 1980.
The tunnel was made of several huge elements that had to be laid and connected together across the canal of Willebroeck and the Rupel River and therefore a lot of dives had to be made at a depth of 24 meters (80 feet) by a team of nearly 20 divers.
The tasks were extremely varied such as: cutting – welding – blasting – jetting – concrete pouring - and a bunch of other interesting operations.
One of the work's I had to do during several days was to install 8'' obturators inside drain pipes. At first glance this did not appeared to be difficult except that to reach the drain pipes, I had to progress some 40 meters inside one of the elements of the tunnel which had been completely flooded due to a construction defect, then, I had to turn left pass a door, follow the bottom concrete floor for about 10 other meters to finally reach a small square opening (50 cm x 50 cm) present in the floor of the element.
This opening gave access to a small chamber (3 m high x 1 m x 1 m) and it was there that I had to install the plug inside a drain that passed at that bottom of the room.
So in fact, the most difficult part of my work was to pass through these small square openings, and this was really not easy due to my bailout bottle. Anyway, I managed to do it every time except on this particular day of 29 March 78.
That day I could enter the room and install my plug but when my job was completed I had the disagreeable surprise to see that I was trapped in the room and could not get out of it.
Every time I tried to pass the opening above my head, I felt that my back was hooked by something. At first it didn't bother me; I just tried calmly for several times. But after 10 or 15 minutes unsuccessful trials I really started to get nervous and the more I tried the more I blocked.
Finally, after having made a real effort to calm down again, I decided to stay at the bottom of the chamber and ask for a stand by diver. Unfortunately in those years, it was not yet the policy of the diving companies to have a stand by diver ready and so I had to wait nearly 20 minutes more before my teammate arrived above the opening and helped me to come out of my grave.
In fact what had happened was that one of the straps of my bailout had come loose and hooked to a rebar each time I tried to come out.
Conclusion:
Do not like the idiots we were at that time.
Have a standby diver ready in any circumstance.
Papy One